Complete Guide To Filing for a Divorce Online in Alabama
Divorce, a regrettable reality rather than a sought-after outcome, has sadly become all too familiar despite one's sincere desires. However, for Alabama residents, a glimmer of hope exists through the avenue of online uncontested divorces. This simplified process allows individuals to dissolve their matrimonial bonds swiftly and efficiently, avoiding unnecessary complications. If residing in the state of Alabama, one can easily pursue this route to alleviate the burdens associated with such circumstances.
What Is a Alabama Online Divorce?
An Alabama online divorce is a service that enables couples to efficiently and inexpensively create the necessary legal documents for a no-fault, uncontested divorce. This approach is commonly chosen when both parties are in agreement regarding the terms of their divorce and desire a straightforward process without the need for legal representation. Users are guided through a sequence of self-paced questions, which are subsequently utilized to generate the required forms. However, it is essential to note that despite utilizing online divorce services, the documents must still be filed with a court and the appropriate legal procedures must be followed to finalize the divorce. Upon approval by the court, a divorce permanently dissolves the marital union.
What Is Included in Alabama Online Divorce?
Alabama Online Divorce services typically offer a comprehensive set of documents and resources. These include a complete divorce packet suitable for cases with or without children. Additionally, they provide free instructions on how to file for divorce without the need for legal representation. In order to address any concerns or queries at any time, round-the-clock customer support is also available.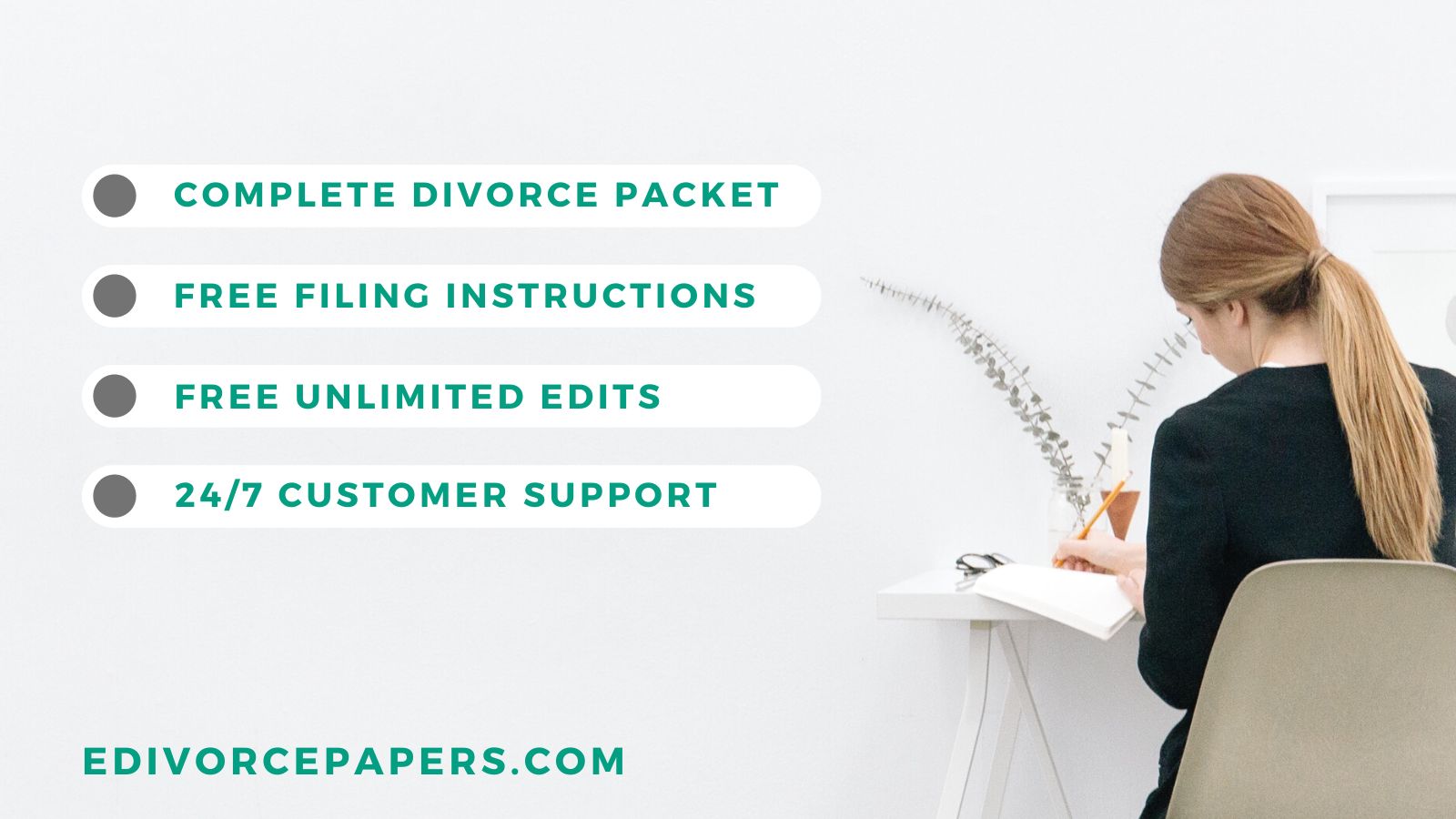 We Can Help!
Experience a hassle-free divorce with our online service. Our process is simple and convenient. Answer straightforward questions online, and we'll prepare your divorce documents. Save time, stress, and legal fees. Perfect for spouses seeking an amicable divorce. Take control of your future today – start the paperwork with ease.
Is Alabama Online Divorce Legit?
Yes, an online divorce in Alabama is legal and recognized by the court as a valid dissolution of marriage. The outcome is no different from personally appearing in court. Individuals who cannot afford or prefer not to hire an attorney for their divorce in Alabama can utilize online services that offer a DIY approach. With these services, individuals can prepare the necessary forms online and subsequently file them with the court in their county of residence. Couples seeking divorce have the option to file the forms themselves or have the online service handle the submission of the divorce paperwork electronically.
Should I Use Online Divorce Services?
Yes, people in Alabama should consider using online divorce services. This option is ideal when both parties have reached agreement on the split and asset division. Online divorce is a cost-effective alternative to hiring a lawyer. However, for couples facing disputes concerning child custody or property division, it is advisable to consider the assistance of a lawyer.
How to File for Divorce Online in Alabama?
You can start the divorce in Alabama online by following a few simple steps. Online divorce services provide a convenient and efficient way to handle the legal process without the need for extensive paperwork or in-person visits to the courthouse. Here are the main steps to file for divorce in Alabama using an online divorce service:
Select a reputable online divorce service: Start by choosing a reliable online divorce service that offers assistance specifically for divorces in Alabama. Make sure the service has a good track record and positive customer reviews.
Create an account: Sign up for an account on the online divorce service's website. Provide your personal information, including your full name, contact details, and any necessary details about your spouse.
Complete the questionnaire: The online divorce service will guide you through a series of questions in a questionnaire specifically tailored for divorce cases in Alabama. Answer the questions truthfully and accurately so that the service can generate the appropriate divorce documents for your situation.
Pay the fees: Once you have completed the questionnaire, you will typically have to pay the required fees for the online divorce service. Different services may have varying pricing structures, so make sure to review the costs before proceeding.
Download and review the documents: After payment, the online divorce service will generate the necessary divorce documents based on the information you provided. Download the documents and carefully review them for any errors or omissions. If necessary, make corrections before proceeding to the next step.
Sign the documents: Sign the divorce documents as required, following the provided instructions. Ensure that all signatures are legible and in the designated areas of each document.
Notarize the documents: Some states, including Alabama, require divorce documents to be notarized. Check the specific notarization requirements in Alabama and ensure that all necessary documents are properly notarized.
File the documents: Once the divorce documents are completed and notarized, you can submit them to the court. Many online divorce services offer assistance with filing the documents, either through electronic filing or by providing detailed instructions for in-person filing.
Serve the documents to your spouse: After filing, you will need to serve the divorce documents to your spouse according to the legal requirements in Alabama. Proper service ensures that your spouse is formally notified of the divorce proceedings.
Attend court hearings (if required): Depending on your specific case, you may need to attend court hearings. Follow any instructions provided by the online divorce service and consult with an attorney if needed.Remember, even though online divorce services simplify the process, divorce laws can be complex. It is advisable to consult with an attorney or legal professional to ensure that your rights and interests are protected throughout the divorce process.
Benefits of Alabama Online Divorce Services
Using an online divorce service in Alabama offers several benefits. It provides a convenient and time-saving solution for couples who want a quick and efficient divorce process. Online services offer step-by-step guidance and legal forms, eliminating the need for extensive research or hiring expensive lawyers. It also allows for easy communication and document sharing, ensuring a smooth and organized divorce process. Overall, using an online divorce service in Alabama simplifies the divorce procedure, saves time, and reduces stress.
Disadvantages of Alabama Online Divorce Services
The disadvantages of using online divorce services in Alabama include potential lack of personalized legal advice, limited information about specific state laws, and the possibility of overlooking important details or requirements in the divorce process.
Who Qualifies for an Online Divorce in Alabama?
Individuals who meet the residency requirements, have an uncontested divorce with no major disputes over child custody, spousal support, or property division, and are willing to complete the necessary paperwork online may qualify for an online divorce in Alabama.
How Much Would Online Divorce Cost?
The cost for online divorce services in Alabama is typically around $139. Court filing fees, which are separate, may vary but average around $200. It is important to note that these costs are general estimates and can vary depending on individual circumstances.
How Long Does an Online Divorce Take in Alabama?
In Alabama, the duration of an online divorce can vary, but it generally takes around 30 to 90 days from the time the divorce papers are filed. There is a mandatory waiting period of 30 days before the divorce can be finalized. This waiting period allows time for both parties to reconsider their decision and potentially reconcile before the divorce is granted.
Start Your Uncontested Divorce Alabama Online
Are you seeking a stress-free solution for your amicable divorce in Alabama? Look no further! Our online divorce service is the perfect solution. With our easy and convenient online process, simply answer a few simple questions, and we will handle the preparation of all your divorce documents. Say goodbye to the hassle of dealing with confusing legal forms. Trust us to provide a smooth and efficient experience, tailored to simplify your divorce proceedings. Let us assist you today!