Texas Divorce Papers in PDF Format
If you have made the decision to handle your divorce proceedings without the assistance of a lawyer, it is essential to ensure that you have the most up-to-date and court-approved documents. The completion of your own divorce paperwork requires you to find a suitable set of Texas Supreme Court family law forms that align with your specific situation. In order to save you time and effort, we have compiled a comprehensive list of these forms on this page. Within a few simple clicks, you can effortlessly review and download Texas divorce papers that are suitable for filing in Texas courts.
Free Printable Texas Uncontested Divorce Forms
To properly fill out divorce papers in Texas, you will need to provide certain essential information. The required details include the full names and addresses of both spouses, the date and place of marriage, and the grounds for divorce, which can be either no-fault or fault-based. You must also state whether there are any children involved, as separate forms exist for divorce cases with or without children. If your case involves children, additional information such as their names, dates of birth, and current residence is necessary. Furthermore, you will be required to provide information on property division, alimony (if applicable), and any other relevant financial matters. To ensure accuracy and adherence to legal requirements, it is advisable to consult an attorney or refer to the official Texas State Courts website, where free printable divorce forms can be obtained. Alternatively, you may download these forms directly from our website.
Download Texas Divorce Forms Without Child (pdf)
If you have made the decision to file for divorce in Texas and you do not have children, it is important to be prepared with the following forms: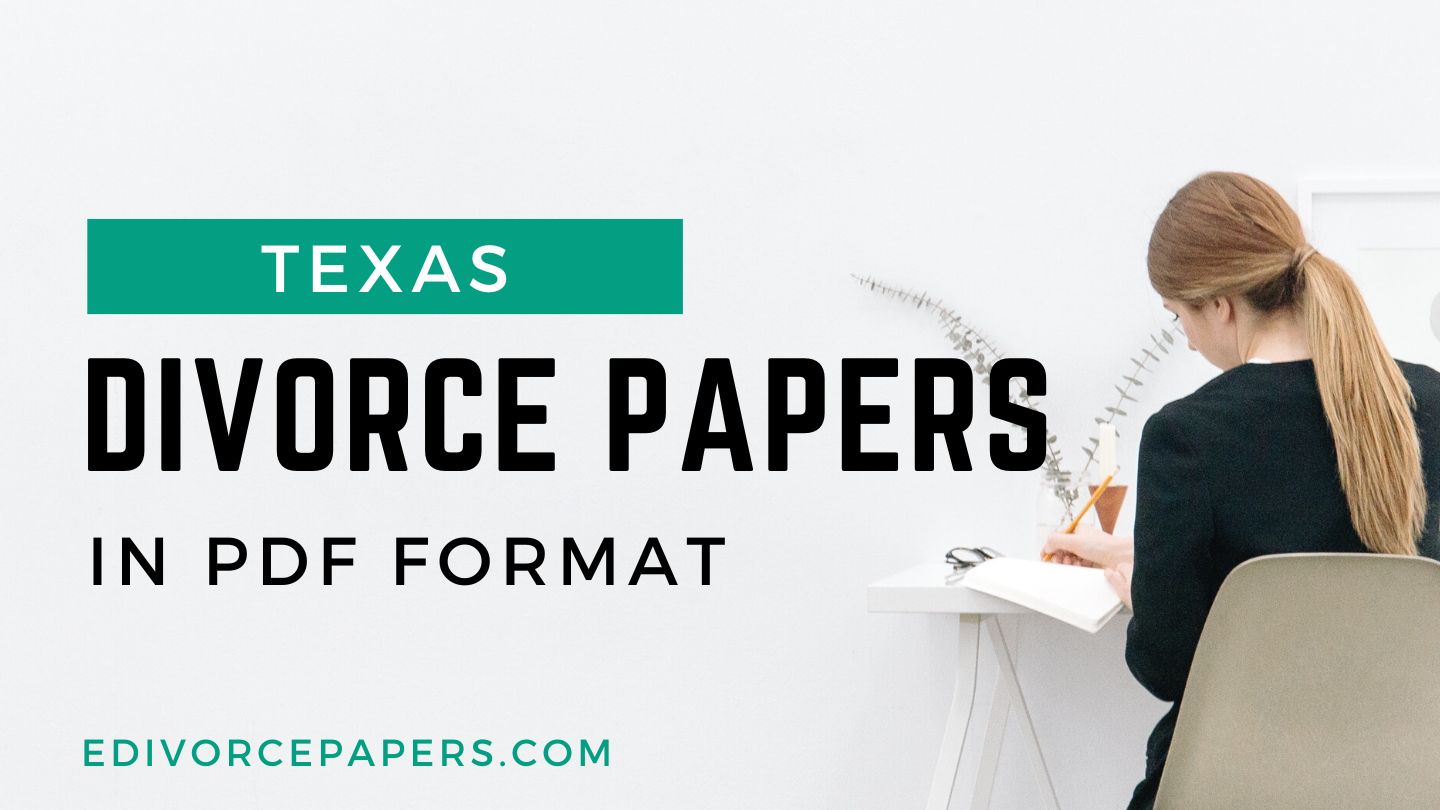 Complete Your Divorce Papers Online
How can we help?
Experience a hassle-free divorce with our online service. Our process is simple and convenient. Answer straightforward questions online, and we'll prepare your divorce documents. Save time, stress, and legal fees. Perfect for spouses seeking an amicable divorce.
Download Texas Divorce Forms With Minor Child (pdf)
If you have made the decision to pursue a divorce with children in Texas and have mutually agreed on the terms, there are specific forms that you must complete. These required forms, available from the Texas Judicial Branch's official website, include:
Petition for Divorce (Form 1) – This form sets forth the basic information about the divorcing couple, such as their names, addresses, and grounds for divorce.
Civil Case Information Sheet (Form 2) – This form provides essential data about the case and helps the court maintain accurate records.
Citation (Form 4) – The citation notifies the other spouse about the divorce proceedings and informs them of the required actions.
Notice of Injunctions (Form 5) – This form lists the temporary court injunctions that automatically go into effect once a divorce case is initiated, providing guidance for both parties during the process.
Final Decree of Divorce (Form 7) – This document outlines the final terms of the divorce, including child custody, support, division of property, and other relevant matters.
Child Support Order (Form 8A) – This form establishes the amount of child support to be paid by the noncustodial parent.
Order for Withholding (Form 8B) – This form directs the employer to withhold a specified amount from the noncustodial parent's income for child support purposes.
Get Your Texas Divorce Papers Online
Make your Texas divorce process simpler and more efficient with our online divorce service. Our reliable service provides a convenient way to prepare your uncontested divorce documents. Here are the three steps to follow for a successful divorce filing:
Step 1.
Work on our questionnaire.
Answer a few simple questions to see if you qualify for an uncontested divorce.
Step 2.
Download the forms.
Complete a comprehensive questionnaire that will enable our system to generate forms tailored to your specific divorce case.
Step 3.
File the documents with the court.
Once your printable forms are ready, download and review them. Read our filing guide and proceed with filing for divorce in Texas.
Trusted by more than 25,000 people
Texas Divorce Papers F.A.Q.
---
Can you download divorce papers in Texas?
To obtain divorce forms in Texas, access them online or obtain them from the District Clerks office. Complete the forms independently and have an attorney review them before filing.
What paperwork is needed for divorce in Texas?
Some of the documents you will be asked to provide are: Petition for Divorce, Final Decree of Divorce, Marital Settlement Agreement, Financial Information Statement. Couples with children may need additional documents.
How do I get divorce papers served in Texas?
To get divorce papers served in Texas, begin by hiring a qualified process server authorized by the court. Provide them with the correct documents and pay necessary fees.
How much are divorce papers in Texas?
In Texas, the filing fee for divorce varies depending on the county, usually costing between $250 and $300. Besides, you must also pay service and issuance fees if your spouse needs to be served with divorce papers.