Complete Guide To Filing for a Divorce Online in Delaware
Divorce, a dissolving of marital bonds, is a regrettable outcome that people seldom desire, yet tragically occurs frequently, even among well-meaning individuals. Fortunately, for Delaware residents, the process of obtaining an uncontested divorce has become remarkably straightforward. By turning to online platforms specifically designed for this purpose, Delawareans can efficiently resolve their marital matters without engaging in complex legal proceedings. Such online services offer a convenient avenue for couples seeking amicable divorce settlements in the state of Delaware.
What Is a Delaware Online Divorce?
Delaware online divorce is an internet-based service that assists couples in completing the required legal documents for a no-fault, uncontested divorce. This option is typically chosen by spouses who have reached an agreement regarding the terms of their divorce and desire a simple and cost-effective method without the involvement of attorneys. The process involves a series of questions that individuals can answer at their own pace, guiding them through the necessary paperwork. However, it is crucial to note that filing the divorce papers with a court and following the appropriate legal procedures are still mandatory for the divorce to be finalized. Once approved and completed by a court, a divorce permanently dissolves the marital union.
What Is Included in Delaware Online Divorce?
Delaware Online Divorce services typically encompass a comprehensive array of essential documents and resources tailored for both cases with or without children. These services furnish a complete divorce packet, inclusive of all necessary paperwork. Moreover, they extend free, step-by-step instructions on navigating through the divorce process without the need for a lawyer. To ensure convenience, support is available to customers round the clock, bolstering their confidence and granting them access to professional assistance whenever required.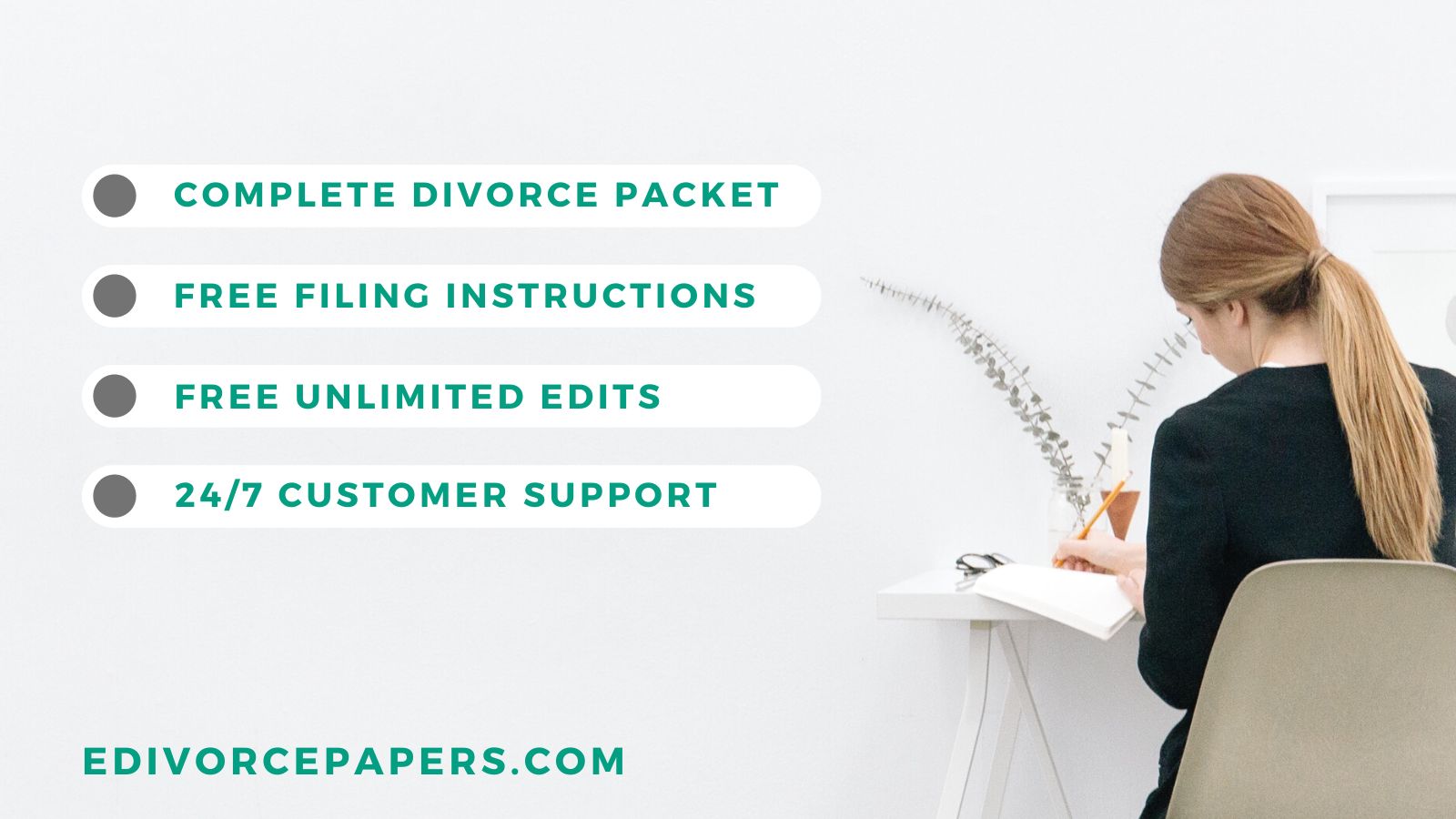 We Can Help!
Experience a hassle-free divorce with our online service. Our process is simple and convenient. Answer straightforward questions online, and we'll prepare your divorce documents. Save time, stress, and legal fees. Perfect for spouses seeking an amicable divorce. Take control of your future today – start the paperwork with ease.
Is Delaware Online Divorce Legit?
Yes, Delaware online divorce is legal and recognized as a valid method for dissolving a marriage. It holds the same legal implications and outcome as a traditional divorce process conducted in person at court. For individuals who are unable or unwilling to hire an attorney for their divorce in Delaware, there are now numerous online services available that offer a DIY approach. These services assist individuals in preparing the necessary legal forms, which must subsequently be filed with the appropriate court in their county of residence. Couples seeking divorce can choose to file the forms independently or utilize the service to complete the entire online divorce process.
Should I Use Online Divorce Services?
Using online divorce services in Delaware can be a prudent choice if both parties agree on the terms of their separation and asset division. These services offer a more affordable alternative to hiring legal professionals. However, if disputes arise concerning child custody or property division, it is advisable to engage the services of a lawyer. In such cases, an attorney's expertise can help navigate the complexities of the legal system and ensure a fair resolution.
How to File for Divorce Online in Delaware?
You can start the divorce in Delaware online by following these simple steps:
Gathering your information: Begin by collecting all the necessary information about yourself, your spouse, and your marriage. This includes full names, addresses, dates of birth, and any relevant details about children or assets you may have.
Selecting an online divorce service: Choose a reputable online divorce service that operates in Delaware. Be sure to opt for a service that provides complete guidance and support throughout the process.
Filling out the questionnaire: Once you've selected a service, you will be directed to a questionnaire. This questionnaire will ask you various questions about your marriage, such as the date of your marriage, grounds for divorce, and details about children or property.
Paying the fees: After completing the questionnaire, you will be required to pay the necessary fees. These fees usually cover the preparation of your divorce documents and any required court filing fees. Make sure to review the payment process and verify the total cost before proceeding.
Document preparation: The online divorce service will then prepare your divorce documents based on the information you provided in the questionnaire. These documents typically include the complaint for divorce, marital settlement agreement, and any additional forms required by the court.
Review and editing: Once the documents are prepared, you will have the opportunity to review them for accuracy and completeness. Take your time to carefully read through each document and make any necessary edits or additions. Accuracy is crucial to facilitate a smooth divorce process.
Printing and signing: After finalizing the documents, you will need to print out the forms and physically sign them. Be sure to follow the specific instructions provided by the online divorce service regarding document formatting and signing requirements.
Filing with the court: Once signed, you will need to file the divorce documents with the appropriate court in Delaware. The online divorce service should guide you on the specific court to file with and provide you with detailed instructions on the filing process.
Serving the documents: After filing, you must ensure that your spouse receives a copy of the divorce documents. Depending on your situation, this can be done through personal service, certified mail, or publication. The online divorce service should provide guidance on the acceptable methods of service.
Finalizing the divorce: Once the documents are served, you will need to wait for the required waiting period, which can vary depending on your circumstances. Upon completion of the waiting period, you can proceed with finalizing the divorce by attending the scheduled court hearing, where a judge will review the documents and grant the divorce.
Remember, online divorce services are designed to simplify and streamline the divorce process. However, it is recommended to seek legal advice if you have any complex issues or concerns throughout the proceedings.
Benefits of Delaware Online Divorce Services
Using an online divorce service in Delaware offers several benefits. Firstly, it provides convenience as all the required documents can be completed online from the comfort of your home. Secondly, it saves time by offering a streamlined process without the need for lengthy court visits. Additionally, online divorce services are cost-effective compared to hiring attorneys. Lastly, the confidentiality of the process is ensured, maintaining privacy throughout the divorce proceedings. Overall, online divorce services in Delaware offer a convenient, efficient, and affordable solution for couples seeking a divorce.
Disadvantages of Delaware Online Divorce Services
Online divorce services in Delaware may lack personalized legal advice, have limited customer support, and may not catch all the intricacies of individual cases. Additionally, users may be responsible for correctly completing and filing all necessary documents without professional guidance.
Who Qualifies for an Online Divorce in Delaware?
Anyone seeking a divorce in Delaware can potentially qualify for an online divorce. As long as both parties agree on all aspects of the divorce, such as property division and child custody, they can proceed with an online divorce process.
How Much Would Online Divorce Cost?
The cost of online divorce in Delaware typically ranges around $139, which covers the average price for online divorce services. Additionally, there will be court filing fees that usually amount to approximately $175 on average.
How Long Does an Online Divorce Take in Delaware?
In Delaware, an online divorce typically takes around 30 to 90 days to be finalized. There is a mandatory waiting period of six months from the date of filing before the divorce can be granted. This waiting period allows for the couple to contemplate their decision. However, the actual processing time can vary depending on the complexity of the case and court backlog.
Start Your Uncontested Divorce Delaware Online
Experience a stress-free divorce process with our online service in Delaware. Our easy and convenient online process allows you to answer simple questions, while we handle the preparation of your divorce documents. No need to worry about complicated legal forms or experienced lawyers. Whether you and your spouse are going through an amicable divorce, our service is the perfect solution to effortlessly prepare your legal forms. Take advantage of our user-friendly website and embark on a hassle-free divorce journey today.