Mississippi Divorce Papers in PDF Format
If you have made the decision to pursue a do-it-yourself divorce, it is imperative that you have the most up-to-date and court-approved documents. By completing the divorce paperwork on your own, you and your spouse can avoid costly legal fees and the complexities of court proceedings. To ensure a smooth and successful process, it is essential to find a set of Mississippi Supreme Court family law forms that are tailored to your case. To simplify your search, we have compiled a comprehensive list of divorce papers for Mississippi courts on this page. In just a few clicks, you can review and print the necessary documents for your divorce proceedings.
Free Printable Mississippi Uncontested Divorce Forms
When preparing divorce papers in Mississippi, you need to gather several key pieces of information. For divorces without children, you will require details about both spouses, such as their full names, addresses, and contact information. Additionally, you should provide the marriage date, location, and grounds for divorce. Mississippi allows for both fault and no-fault divorces, so you must cite the specific reason for the dissolution of the marriage. In cases involving children, you will need additional information. This includes the names and ages of the children, as well as custody preferences and any desired child support arrangements. It is crucial to accurately complete these forms as incorrectly filed paperwork can result in delays or legal complications. To ease the process, the official Mississippi State Courts website provides free printable divorce forms for both types of cases. Alternatively, you can also acquire these forms by directly downloading them from our website.
Download Mississippi Divorce Forms Without Child (pdf)
If you decided to file for divorce in Mississippi and you do not have children, you need to prepare the following forms:
Complaint for Divorce: This form is used to initiate the divorce proceedings. It includes details about both spouses, grounds for divorce, and the relief sought.
Summons: The summons is a legal document that informs your spouse about the divorce lawsuit and gives them notice of their right to respond.
Verification: This form is a sworn statement by the plaintiff, confirming that the information in the complaint is true and accurate to the best of their knowledge.
Civil Case Action Cover Sheet: This form provides basic information about the case, such as the names of the parties, the type of case, and the court where it will be filed.
Confidential Information Sheet: This sheet is used to provide personal information about each spouse, including their social security numbers, addresses, and contact information.
Divorce Agreement: If you and your spouse have reached a settlement on important issues like property division and spousal support, you must prepare a written agreement and submit it to the court.
Final Judgment: This document concludes the divorce proceedings, outlining the decision of the court regarding the divorce, property division, and any other relevant issues.
Information Regarding Assets and Debts: This form requires you to provide a detailed list of all your assets, including real estate, vehicles, bank accounts, and debts, to ensure fair division during the divorce process.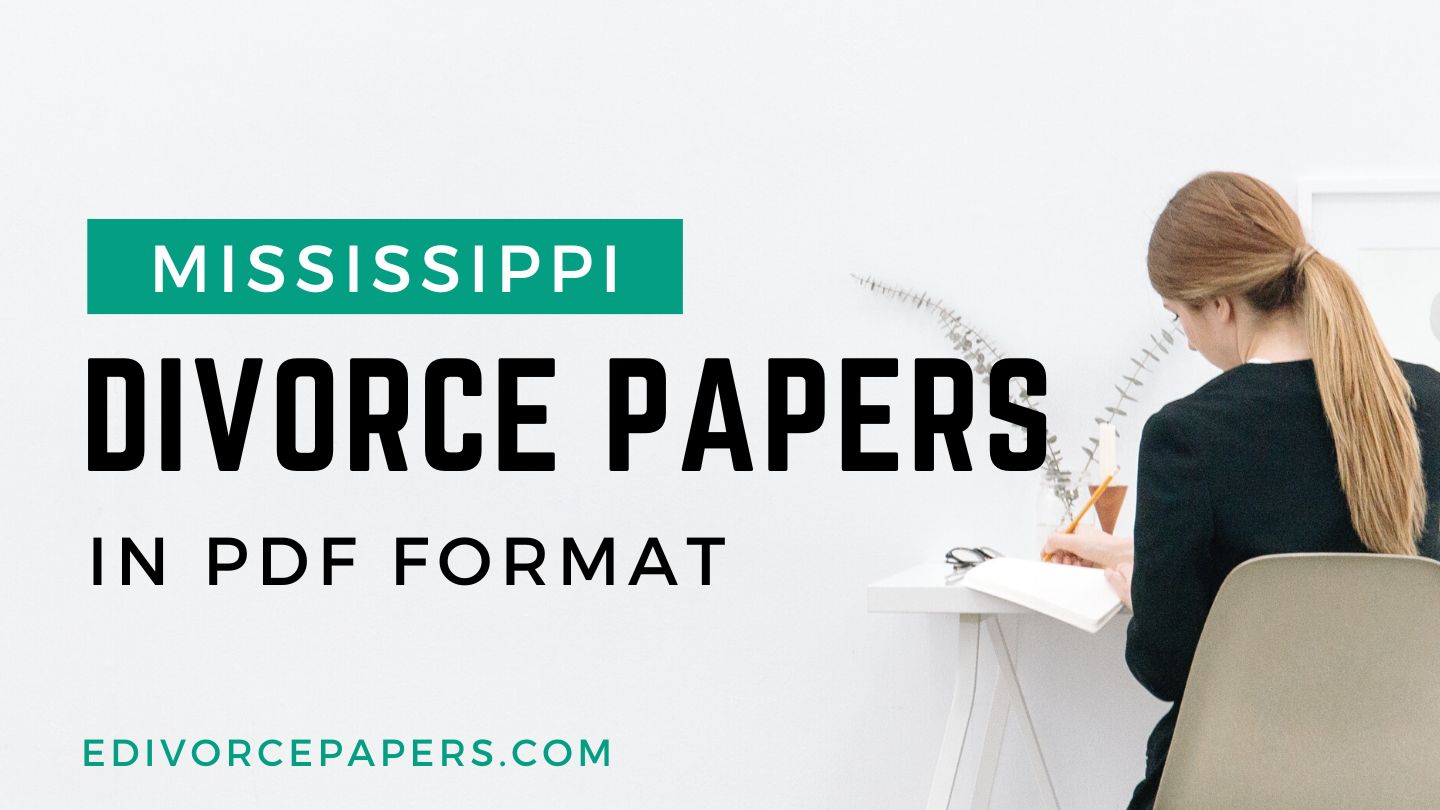 Complete Your Divorce Papers Online
How can we help?
Experience a hassle-free divorce with our online service. Our process is simple and convenient. Answer straightforward questions online, and we'll prepare your divorce documents. Save time, stress, and legal fees. Perfect for spouses seeking an amicable divorce.
Download Mississippi Divorce Forms With Minor Child (pdf)
If you decided to have an agreed divorce with children in Mississippi, you need to fill in these required forms:
Petition for Divorce: This is the document filed with the court to begin the divorce process. It states the grounds for divorce and requests the court to dissolve the marriage.
Summons: This form notifies your spouse that you have filed for divorce and provides them with important information regarding the legal proceedings.
Child Custody Jurisdiction Affidavit: This document verifies that Mississippi has jurisdiction over the custody matters involved in your divorce and ensures that a proper determination can be made regarding the children.
Child Support Worksheet: This form calculates the amount of child support that should be paid based on the financial circumstances of both parents.
Child Support Guidelines: This document provides guidelines for calculating child support based on the number of children and the combined income of both parents.
Financial Statement: This form requires both parties to disclose their financial information, including income, assets, and debts. It helps the court in making fair decisions regarding alimony, property division, and child support.
Marital Settlement Agreement: This is a written agreement between you and your spouse that outlines how you will divide your assets, debts, and parental responsibilities. It must be signed by both parties and notarized.
Final Judgment of Divorce: This is the court's official document that legally terminates your marriage and incorporates the terms of your settlement agreement.
Get Your Mississippi Divorce Papers Online
Make your Mississippi divorce papers preparation less complicated with our online divorce service. With the help of our reliable online service, filing for divorce can become even more convenient. Here are the three steps to take to file for marriage dissolution successfully:
Step 1.
Work on our questionnaire.
Answer a few simple questions to see if you qualify for an uncontested divorce.
Step 2.
Download the forms.
Complete a comprehensive questionnaire for our system to fill out forms specific to your divorce case.
Step 3.
File the documents with the court.
Wait till your printable forms are ready, check and download them. Read our filing guide and proceed with the divorce filing in Mississippi.
Trusted by more than 25,000 people
Mississippi Divorce Papers F.A.Q.
---
Can you download divorce papers in Mississippi?
To get divorce forms in Mississippi, you can either download them online or obtain them at the District Clerks office. Fill them out yourself and have an attorney check them before filing.
What paperwork is needed for divorce in Mississippi?
Some of the documents you will be asked to provide are: petition for divorce, summons, financial statements, and if you have children, additional documents pertaining to child custody and support.
How do I get divorce papers served in Mississippi?
To get divorce papers served in Mississippi, submit them to a process server or hire a qualified individual. Provide necessary information and fees for them to serve the papers to your spouse.
How much is a divorce paper in Mississippi?
When filing for divorce in Mississippi, a filing fee must be paid. This fee varies by county, typically ranging from $250 to $300. You may also need to pay a service fee and an issuance fee if serving divorce papers to your spouse is necessary.