Complete Guide To Filing for a Divorce Online in Ohio
Divorce, an undesired pursuit, yet frequently realized, despite well-meaning efforts. However, those dwelling in Ohio find solace in the simplicity of uncontested divorce online. With an easy process specifically tailored for Ohio residents, the option to dissolve a marriage harmoniously is readily accessible. No need to venture through intricate legal realms; instead, a straightforward online journey awaits, assuaging the complexities associated with divorce proceedings. Ohio residents need not grapple with convoluted procedures, as a streamlined solution effortlessly awaits their grasp.
What Is a Ohio Online Divorce?
Ohio online divorce is a convenient and cost-effective option for couples seeking a no-fault, uncontested divorce. Through the use of online divorce services, spouses can easily prepare all required documents without the need for legal representation. The process involves answering a series of questions at the couple's own pace, and the provided information is utilized to generate the necessary legal forms. It is essential to note, however, that the divorce papers still need to be filed with a court and the appropriate legal procedures followed. Once the court approves and finalizes the divorce, the marital union is permanently dissolved.
What Is Included in Ohio Online Divorce?
Ohio Online Divorce offers a comprehensive package that includes essential documents and resources necessary for divorces, irrespective of whether there are children involved or not. These services provide a complete divorce packet, ensuring that all required paperwork is included. They also offer step-by-step instructions for those seeking to file for divorce without the assistance of a lawyer. In addition, 24/7 customer support is available to address any concerns or queries that may arise throughout the process. These services aim to simplify and streamline the divorce process for individuals in Ohio.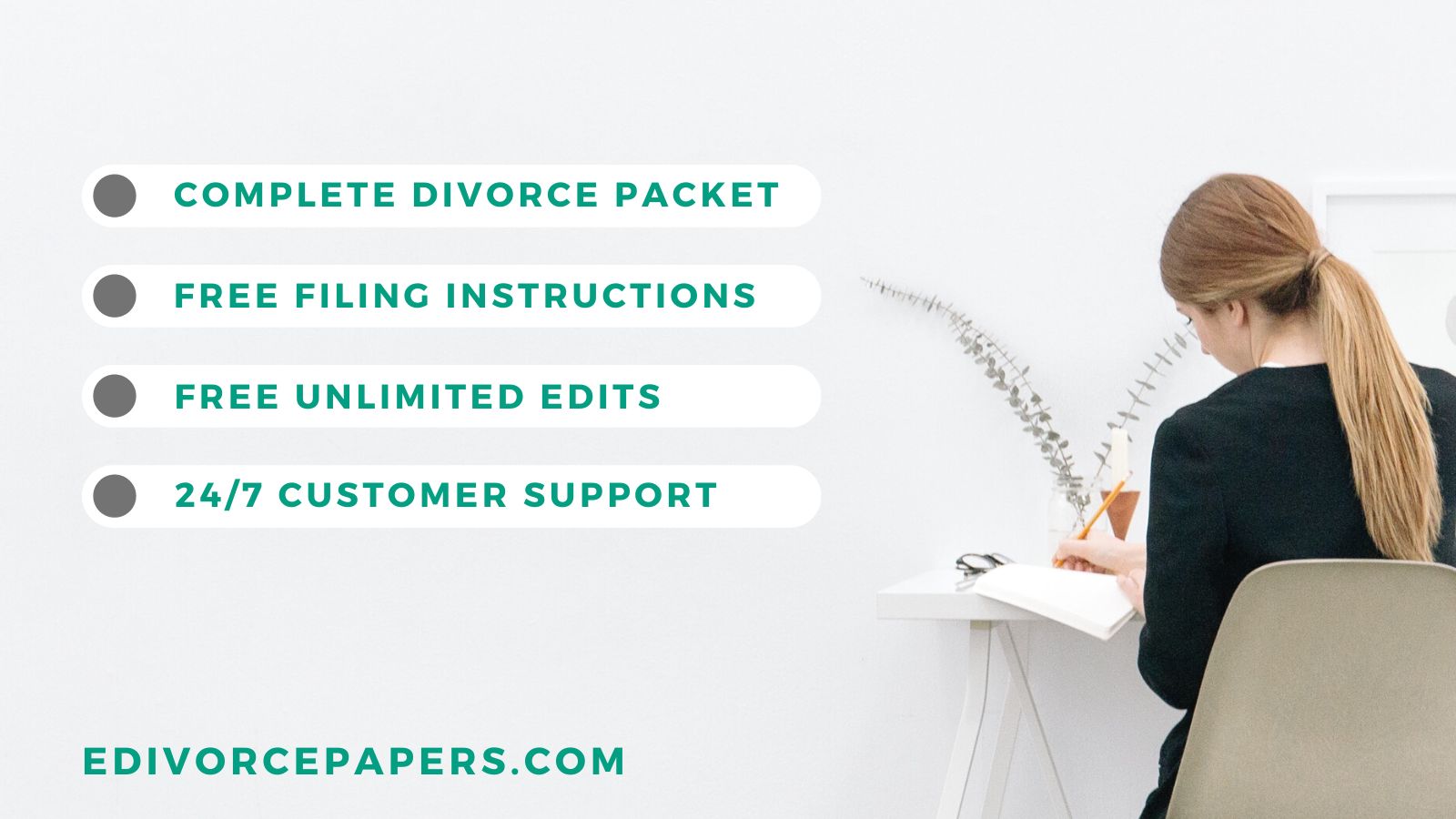 We Can Help!
Experience a hassle-free divorce with our online service. Our process is simple and convenient. Answer straightforward questions online, and we'll prepare your divorce documents. Save time, stress, and legal fees. Perfect for spouses seeking an amicable divorce. Take control of your future today – start the paperwork with ease.
Is Ohio Online Divorce Legit?
Yes, an online divorce in Ohio is legally recognized as a valid dissolution of a marriage. The outcome is equivalent to a traditional in-person court process. For individuals who cannot afford or choose not to hire an attorney for divorce in Ohio, various online services now offer a do-it-yourself approach. These services assist individuals in preparing the necessary forms, which must subsequently be filed with the court in the county where they reside. The divorcing couple has the option to file the forms themselves or delegate the online service to handle the submission of the divorce paperwork electronically.
Should I Use Online Divorce Services?
Yes, people in Ohio should consider using online divorce services. If you and your spouse have successfully come to an agreement on how to divide your assets and are in agreement about your split, online divorce services can be a favorable option. It offers a more affordable alternative to hiring a lawyer. However, if you have disagreements regarding child custody or property division, it would be wise to seek professional legal assistance. Remember, online divorce services are ideal for simplified cases where both parties are in accord.
How to File for Divorce Online in Ohio?
You can start the divorce in Ohio online by:
Researching an Online Divorce Service: Begin by researching and selecting a reputable online divorce service that caters to residents of Ohio. Ensure the service is reliable, trusted, and has positive customer reviews regarding their divorce filing process.
Creating an Account: Once you've found a suitable online divorce service, create an account on their website by providing necessary personal information such as your name, contact details, and other essential details required during the divorce process.
Completing the Online Questionnaire: After creating an account, you will be prompted to fill out an online questionnaire. This questionnaire gathers information about you, your spouse, the grounds for divorce, and any relevant details about property, children, and finances.
Paying the Fees: Along with completing the questionnaire, you will typically be required to pay the online divorce service fees. Be mindful of any additional charges that may apply, ensuring you understand the total costs involved in the divorce filing process.
Reviewing and Signing the Forms: Once you have submitted the necessary information and paid the fees, the online divorce service will generate the required legal forms for your divorce. Carefully review these forms to ensure accuracy. If any errors or omissions are found, make the necessary corrections and resubmit the forms.
Serving the Divorce Forms: After reviewing and signing the forms, you will need to serve them to your spouse. This can typically be done online, through email, or by mail. Ensure that your spouse receives the forms and is aware of the divorce proceedings.
Negotiating Settlement: While using an online divorce service simplifies the filing process, it's important to remember that divorce involves asset division, child custody, and other important matters. You and your spouse may need to negotiate a settlement agreement to finalize these details. This can be done through negotiation, mediation, or collaboration.
Filing the Forms with the Court: Once the settlement is agreed upon, you will need to file the completed forms with the appropriate court in Ohio. Ensure you follow the online divorce service's instructions for filing the forms and any accompanying documentation required by the court.
Attending Court Hearings (if necessary): Finally, if any court hearings are necessary for your divorce case, you will need to attend them as required. The online divorce service can guide you on how to prepare for these hearings and represent yourself effectively, without the need for expensive legal representation.
Starting an online divorce in Ohio involves selecting a trusted online divorce service, creating an account, completing an online questionnaire, paying the required fees, reviewing and signing the forms, serving them to your spouse, negotiating a settlement, filing the forms with the court, and attending any necessary court hearings. By following these steps, you can initiate and navigate the divorce process efficiently using an online platform.
Benefits of Ohio Online Divorce Services
Using an online divorce service in Ohio offers several benefits. Firstly, it provides convenience as all necessary documents can be completed online, saving time and effort. Secondly, it is cost-effective, avoiding expensive attorney fees. Additionally, online services ensure accuracy and minimize errors, ensuring proper completion of paperwork. Furthermore, online divorce services provide step-by-step guidance, simplifying the process for individuals who may be unfamiliar with legal procedures. Overall, using an online divorce service in Ohio offers convenience, cost-effectiveness, accuracy, and guidance.
Disadvantages of Ohio Online Divorce Services
There are potential disadvantages to using online divorce services in Ohio, such as limited legal guidance, potential errors in completing forms, and a lack of attorney representation to address complex issues.
Who Qualifies for an Online Divorce in Ohio?
To qualify for an online divorce in Ohio, you must meet certain criteria such as having a mutual agreement with your spouse on all relevant issues, not having any minor children, and having a relatively simple and uncontested case.
How Much Would Online Divorce Cost?
Online divorce in Ohio typically costs around $139 for the service itself. Additionally, court filing fees can range from $200 to $400, depending on the county.
How Long Does an Online Divorce Take in Ohio?
An online divorce in Ohio typically takes about 4 to 6 months. During this time, there is a mandatory waiting period of 42 days after filing the divorce paperwork. This waiting period allows the court to review the case and ensures both parties have ample time to consider and finalize the divorce agreement.
Start Your Uncontested Divorce Ohio Online
Are you going through an amicable divorce in Ohio? Save time, money, and stress with our online divorce service. Our process is easy and convenient. Simply answer simple questions online and we will prepare your divorce documents. With our reliable and efficient service, you can obtain all the necessary legal forms without any hassle. Experience a stress-free divorce today. Take the first step towards a peaceful future.