Wyoming Divorce Papers in PDF Format
If you have made the decision to handle your own divorce proceedings in Wyoming and are confident that you and your spouse can reach an agreement outside of court, it is imperative to ensure that your paperwork is accurate and up to date. In order for your self-completed divorce papers to be accepted by the court, it is vital to find a set of Wyoming Supreme Court family law forms that are specifically tailored to your case and have been approved by the court. To simplify this process, we have compiled a comprehensive list of Wyoming divorce papers that you can conveniently review and download with just a few clicks.
Free Printable Wyoming Uncontested Divorce Forms
To properly fill out divorce papers in Wyoming, it is essential to gather specific information beforehand. For divorce cases with children, you will require the following details: full names, dates of birth, and social security numbers of both spouses and children, information regarding child custody and visitation arrangements, proposed child support amount, and details about health insurance coverage for the children. In case of divorce cases without children, you will still need the full names, dates of birth, and social security numbers of both spouses, as well as details regarding property and debt division. These details are crucial for accurately completing the divorce papers.
To ensure a smooth process, the official Wyoming State Courts website offers free printable divorce forms specifically designed for cases with or without children. You can easily access these forms on our website as well, by directly downloading them below. Remember to carefully provide all the necessary information and seek legal advice if needed during the divorce proceedings.
Download Wyoming Divorce Forms Without Child (pdf)
If you have decided to file for divorce in Wyoming and you do not have children, you need to prepare the following forms: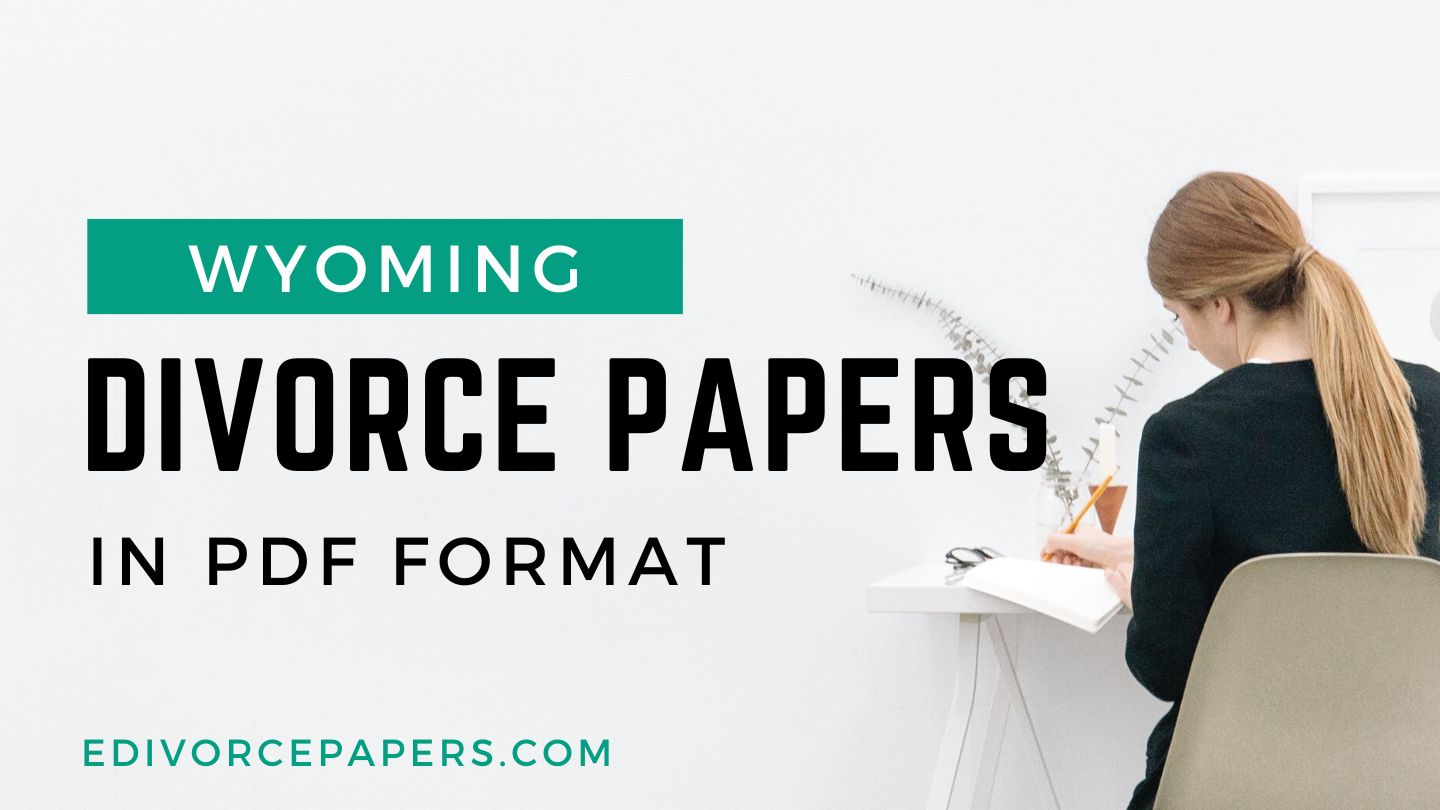 Complete Your Divorce Papers Online
How can we help?
Experience a hassle-free divorce with our online service. Our process is simple and convenient. Answer straightforward questions online, and we'll prepare your divorce documents. Save time, stress, and legal fees. Perfect for spouses seeking an amicable divorce.
Download Wyoming Divorce Forms With Minor Child (pdf)
If you decided to have an agreed divorce with children in Wyoming, you need to fill in these required forms:
Petition for Divorce: This form requests the court to grant a divorce and lists basic information about the parties involved, such as names, addresses, and marriage dates.
Summons: The summons informs the other party that a divorce action has been filed. It includes specific instructions for responding to the divorce petition.
Child Support Worksheet: This form calculates the appropriate child support amount based on the income and expenses of both parents. It ensures the court has accurate information to determine child support obligations.
Uniform Child Custody Jurisdiction and Enforcement Act (UCCJEA) Affidavit: This form provides information about the children's residences over the past five years, ensuring the court has jurisdiction to make custody determinations.
Proposed Parenting Plan: This document outlines how the parents will share custody, parenting time, decision-making responsibilities, and child support. It is important that both parents agree on this plan before submitting it to the court.
Financial Affidavit: This form details each party's income, expenses, assets, and debts, enabling the court to make fair decisions regarding property division, alimony, and child support.
Decree of Divorce: The decree is the final order of the court, granting the divorce and outlining the terms of child custody, support, and property division.
Get Your Wyoming Divorce Papers Online
Make your uncontested divorce documents preparation less complicated with our online divorce service. With the help of our reliable online service, filing for divorce can become even more convenient. Here are the three steps to take to file for marriage dissolution successfully:
Step 1.
Work on our questionnaire.
Answer a few simple questions to see if you qualify for an uncontested divorce.
Step 2.
Download the forms.
Complete a comprehensive questionnaire for our system to fill out forms specific to your divorce case.
Step 3.
File the documents with the court.
Wait till your printable forms are ready, check and download them. Read our filing guide and proceed with the divorce filing in Wyoming.
Trusted by more than 25,000 people
Wyoming Divorce Papers F.A.Q.
---
Can you download divorce papers in Wyoming?
To get divorce forms in Wyoming, you can either download them online or get them from the District Clerk's office. Then, complete the forms yourself and have an attorney check them before filing.
What paperwork is needed for divorce in Wyoming?
Some of the documents you will be asked to provide are: a Petition for Divorce, a Summons, a Financial Affidavit, a Child Support Worksheet (if applicable), and a Parenting Plan (if there are children involved).
How do I get divorce papers served in Wyoming?
To get divorce papers served in Wyoming, you should hire a licensed process server or ask the sheriff's office to serve the papers on your behalf.
How much is a divorce paper in Wyoming?
When filing for divorce in Wyoming, a filing fee is imposed which varies by county. The fee usually falls between $250 and $300. In addition, you may need to pay for service and issuance fees if your spouse needs to be served with divorce papers.